Papers that will not cause problems by generating dust, for use in clean room manufacturing of precision-instruments, semiconductors, pharmaceutical and other industries.
Dust-free papers here refer to papers impregnated with special chemicals to suppress the generation of lint. It does not mean there is absolutely no lint generated.
Find out more about Dust-free-papers
What environments are these papers suited to?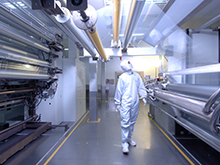 These papers, developed for use inside clean rooms, enable the basic functions of normal papers such as writing and printing. Yet they also have the important additional benefit of greatly reduced dust generation. In clean rooms, the amount of dust in the air is controlled to ensure it does not exceed a certain level. Such rooms are usually installed in manufacturing plants in the precision-instrument, semiconductor or pharmaceutical industry.
Why do they produce so little dust?
These are papers in which scrap wood and other materials are blended. In recent years, the rise in recycling has increased demand for blended papers, particularly those that use waste materials that would previously have been discarded. Incorporating inedible waste materials helps conserve resources. Please contact us for details.
What are the other features of these papers?
The range includes products with high electro conductivity, designed to suppress electrostatic charging. Some of the papers in this range are also recyclable.
What applications are these papers used for?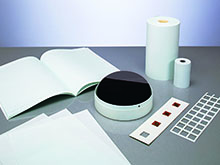 They can be used for work instruction sheets, schedule control tables, notebooks and copier paper. The 'Dust-free' feature is a key benefit to the high-tech industry.
We can also tailor these Dust-free papers to individual customer needs (such as medical and food industry requirements). Contact us and we'll be happy to discuss your needs.
Contact Us
For product inquiries, please use the entry form or contact the following address.
LINTEC Corporation

Fine & Specialty Paper Products Operations

PHONE: +81-3-3868-7720
FAX: +81-3-3868-7728
8th Fl., Bunkyo Garden Gate Tower, 1-1-1 Koishikawa, Bunkyo-ku, Tokyo 112-0002, Japan