Japanese 'Washi-style' papers
High-grade Japanese 'Washi-style' papers, blended with special fibers that subtly gleam when they catch the light. The range of six calming colors reflect those of Japan's landscape, such as the delicate pink of the cherry blossom and the silvery grey of the moon. Available in multiple weights, these distinctive papers are smooth, yet strong. Suitable for multicolor offset printing.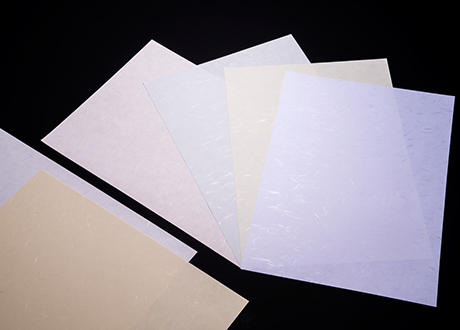 Applications
Letter papers, envelopes,greeting cards,Menus, invitations and high quality stationery,
wrapping papers, book cover and endpaper, and other products.
Features
High-grade Japanese-style papers with an elegant feel.
High in surface strength, suitable for offset printing.
Available in soft color tones, suitable for a wide variety of applications, including stationery and wrapping papers.
List of products
Color
Substance
Size
Sheets per pack
Size
Sheets per pack
Snow
White
70g/m2
788*1,091
mm
200sheets
636*939mm
/
939*636mm
-
90g/m2
200sheets
104.7g/m2
127.9g/m2
-
157g/m2
100sheets
-
209.3g/m2
-
Sakura
Sea
Moon
Light brown
70g/m2
200sheets
-
-
90g/m2
-
104.7g/m2
-
Color samples
Note that the color shown on your display may be different from the actual color.
Please contact us for other colors or blending options.
Contact Us
For product inquiries, please use the entry form or contact the following address.
LINTEC Corporation

Fine & Specialty Paper Products Operations

PHONE: +81-3-3868-7720
FAX: +81-3-3868-7728
8th Fl., Bunkyo Garden Gate Tower, 1-1-1 Koishikawa, Bunkyo-ku, Tokyo 112-0002, Japan