High-grade papers embossed with leather-effect patterns in a range of calming colors. These leather-effect papers are as appealing to touch as they are to look at, with embossed markings that add texture and interest. The colors cover a spectrum from white, through cream to pale yellow and beige, with the addition of some cool greys for added gravitas. Available in a variety of thicknesses, these papers are suitable for envelopes, wrapping papers, carrier bags, book covers and endpaper.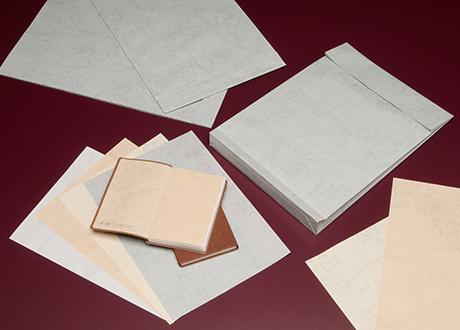 Application
A variety of envelopes, wrapping papers, book endpaper, carrier bags, invitation cards, and other products.
Features
High-grade papers embossed with leather-effect patterns.
Available in subtle color tones, with excellent processability.
List of products
Color
Substance
Size
Sheets per pack
Size
Sheets per pack
White
Cream
Beige
Sky
85g/m2
1,091*788mm
200sheets
636*939mm
200sheets
100g/m2
120g/m2
White
Cream
Beige
140g/m2
100sheets
100sheets
186.1g/m2
Color samples

Note that the color shown on your display may be different from the actual color.
Please contact us for other colors or blending options.
Contact Us
For product inquiries, please use the entry form or contact the following address.
LINTEC Corporation

Fine & Specialty Paper Products Operations

PHONE: +81-3-3868-7720
FAX: +81-3-3868-7728
8th Fl., Bunkyo Garden Gate Tower, 1-1-1 Koishikawa, Bunkyo-ku, Tokyo 112-0002, Japan