With a high recycled pulp content of 40% or above, these papers are an environmentally responsible choice. The environmental credentials do not compromise the performance or color quality of these papers.
 

Recycled pulp at least 40% blended in * + Green pulp
Guaranteed minimum value: Recycled-pulp blending ratio for each color and lot.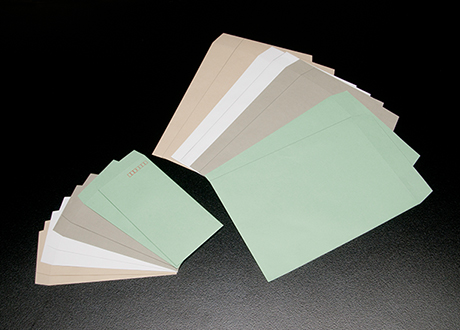 Colored paper products that incorporate additional materials
Please note: Color may vary within the same lot and across each production batch because of the inclusion of a high ratio of recycled pulp. Foreign particles originating from the recycled pulp may be visible within the paper.
Features
Offering a recycled-pulp blending ratio of 40% or more, these papers are an environmentally responsible choice.
These papers for envelopes offer excellent printability, processability, and strength. They are available in a choice of four colors.
List of products
Color
Substance
Size
Sheets per pack
White
80g/m2
100g/m2
788*1,091mm
200sheets
Silver
Green
Gray
900*1,200mm
200sheets
Color samples
Note that the color shown on your display may be different from the actual color.
Please contact us for other colors or blending options.
Contact Us
For product inquiries, please use the entry form or contact the following address.
LINTEC Corporation

Fine & Specialty Paper Products Operations

PHONE: +81-3-3868-7720
FAX: +81-3-3868-7728
8th Fl., Bunkyo Garden Gate Tower, 1-1-1 Koishikawa, Bunkyo-ku, Tokyo 112-0002, Japan