Papers that combine an elegant appearance with high opacity, available in a variety of appealing shades. The thick, textured feel of these papers adds real durability. Offering great printability, these papers are ideal for posters, catalogs, calendars, book covers and endpaper.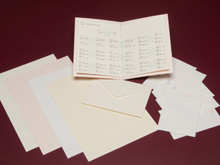 Application
Posters, catalogs, calendars,book cover and endpaper papers for stock certificates, picture postcards, letterhead, envelopes, cards, business cards, greeting cards, certificates, and other products.
Features
Elegant colors combined with high opacity.
Thick, with a durable yet luxurious texture.
Takes printing inks well, and enables sophisticated printing effects.
List of products
Color
Substance
Size
Sheets per pack
Snow
White
Cream
104.7g/m2
788*1,091mm
200sheets
127.9g/m2
157g/m2
100sheets
209.3g/m2
261.6g/m2
Pink
127.9g/m2
200sheets
157g/m2
100sheets
209.3g/m2
Color samples

Note that the color shown on your display may be different from the actual color.
Please contact us for other colors or blending options.
Contact Us
For product inquiries, please use the entry form or contact the following address.
LINTEC Corporation

Fine & Specialty Paper Products Operations

PHONE: +81-3-3868-7720
FAX: +81-3-3868-7728
8th Fl., Bunkyo Garden Gate Tower, 1-1-1 Koishikawa, Bunkyo-ku, Tokyo 112-0002, Japan