Message from the President and CEO
Makoto Hattori
Representative Director,
President, CEO and COO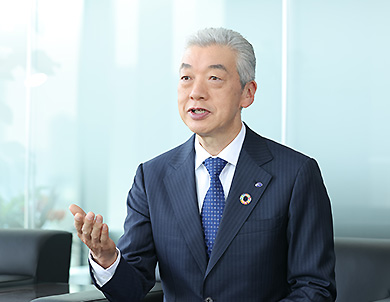 Since its foundation in 1927 as "FUJI SHOKAI," dealing with manufacturing and sales of gummed tapes, our company has expanded its business into various fields including adhesive products and related equipment, or specialty papers, and has continued to steadily grow. Today, we are developing and providing products that meet the world's needs by integrating our unique core technologies in areas such as adhesive applications, surface improvement, system development, and specialty paper and release materials production in a sophisticated manner.
We are positively progressing with the enhancement of our global production and sales structure based on the concept of local production, which means that we manufacture products in locations that are closer to our customers and provide them with a stable supply of these products. In addition to Asia, where we have many manufacturing and sales bases, we have recently been taking steps to further expand our business, such as strengthening our European and U.S. networks through M&A.
From this fiscal year, the Group has set the long-term vision Lintec Sustainability Vision 2030 (LSV 2030) which focuses on where it wants to be by 2030. To achieve this, the Group has launched the new medium-term business plan "LSV 2030—Stage 1." We will steadily fulfill our corporate roles and responsibilities by addressing various social issues, including the fight against climate change, and helping to build a sustainable world.
From my past experience in sales and marketing, I always thought that identifying what customers really need to create products that meet market standards and meeting demand with original ideas and technical and development capability are the most important elements. Under the spirit of our company motto, "Sincerity and Creativity," we will continue to work as one to achieve sustainable development and growth together with society.
Career
Entered FUJI SHIKO CORPORATION (current LINTEC CORPORATION) in 1980 after graduating from the College of Law, Nihon University. Took charge of a variety of areas such as gummed tape, adhesive materials for labels, and semiconductor-related products as a salesperson. In 2000, assigned to Electronic Devices Operations, the predecessor of the current Advanced Materials Operations. Subsequently, assumed the positions of manager of semiconductor-related products and head of Advanced Materials Operations, while contributing to the growth of the company's electronics-related businesses. Acted as Executive General Manager, Business Administration Division, from 2017 as the chief of all business divisions, and in April 2020, took office as Representative Director, President, CEO and COO. His motto is: "Be humble and don't be arrogant, and make every effort possible."