Recycled film labelstocks (PET type)
Recycled film labelstocks (PET type)
Labelstock using PET film produced through "mechanical recycling" method, with PET bottles as raw-material. Recycled PET resin content is more than 80%.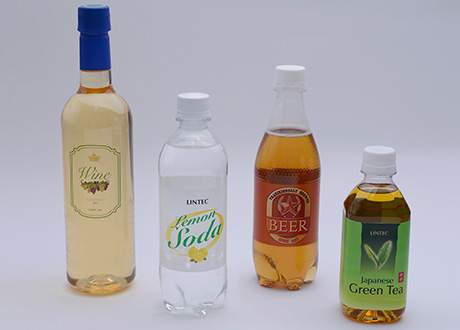 From PET bottle to PET labelstock

One recycling method for post-consumer PET bottles. Allows sanitary recovery of uncompromised, high-quality PET resin.
Features
Recycled PET resin content in facestock is more than 80%.
Closed-loop use of resources reduces depletion of petroleum resources and reduces environmental impacts.
Manufacturing process of this PET film produces approximately 24% lower CO2 emissions than alternative methods.
Material properties equivalent to those of virgin PET film-based labelstock.
Approved by the Council for PET Bottle Recycling* for its recycled PET resin content standard established by the Council. Japanese domestic organization.
Approved by the Council for PET Bottle Recycling
Requirement for approval by the Council for PET Bottle Recycling is to use 25% or more of recycled PET resin as the primary content of the product.
Applications
POP labels, eye-catching labels, general labels, and similar items for daily necessities, cosmetics, consumer electronic goods, and many other products
Product lineup
| Product name | Facestock | Adhesive | Release paper | Material indication |
| --- | --- | --- | --- | --- |
| KP5000 | clear polyester film 50µm | High adhesion type | Siliconised single-sided polyethylene laminated glassine paper(blue) | >PET< |
Catalog

Labelstocks
View PDF : 3,197KB
e-book

Product information and contact detail in this brochure may be changed from publishment date. Please confirm contact detal when you make the inquiry.
Contact Us
For product inquiries, please use the entry form or contact the following address.
LINTEC Corporation

Printing & Variable Information Products Operations
Overseas Sales Department

PHONE: +81-3-3868-7730
FAX: +81-3-3868-7740
8th Fl., Bunkyo Garden Gate Tower, 1-1-1 Koishikawa, Bunkyo-ku, Tokyo 112-0002, Japan