Attaching adhesive surfaces together strengthens their bond, creating an ideal labelstock for display cards and price tags. The adhesive itself has no tack and can be used without sticking to the products. Suitability for printing and converting is the same as that of an ordinary labelstock.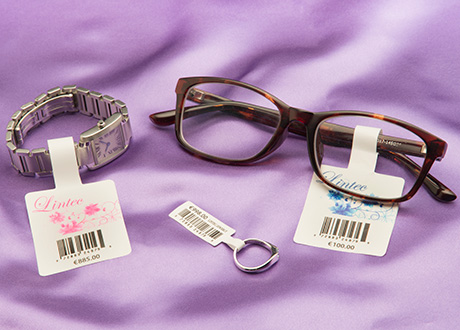 Features
Facestock is a matt-type polypropylene film suitable for printing.
Attaching adhesive together increases their bonding strength.
Applications
Price tag-labels for items such as glasses, rings, necklaces, and other precious products
Suitcases or bag tag-labels
Wristbands and other ID tags
Product line-up
| Product name | Facestock | Adhesive | Release film |
| --- | --- | --- | --- |
| ML806B | Polypropylene(white) | Special adhesive | Polypropylene (PP) film (clear) |
Catalog

Labelstocks
View PDF : 3,197KB
e-book

Product information and contact detail in this brochure may be changed from publishment date. Please confirm contact detal when you make the inquiry.
Contact Us
For product inquiries, please use the entry form or contact the following address.
LINTEC Corporation

Printing & Variable Information Products Operations
Overseas Sales Department

PHONE: +81-3-3868-7730
FAX: +81-3-3868-7740
8th Fl., Bunkyo Garden Gate Tower, 1-1-1 Koishikawa, Bunkyo-ku, Tokyo 112-0002, Japan