January 25, 2023
Lower environmental impact and contribute to reducing CO2 emissions
LINTEC Expands Lineup of Hot-Melt Adhesive Labelstock
Permanent general-purpose adhesive labels for diverse applications including various display labels
LINTEC announced that it has developed a permanent general-purpose hot-melt adhesive and is now using it in a new labelstock series named HVT. On February 1, the company will release three new products using this new adhesive: two synthetic paper-based and one water-resistant paper-based labelstock products. They are intended to be useful across a wide range of applications, including various kinds of display labels.
New Hot-Melt Products with Low Environmental Impact
In 2020, LINTEC fully launched on the domestic market CHILL AT labelstock that uses hot-melt technology owned by MACTAC AMERICAS, LLC (Ohio) to apply coating adhesive by melting it with heat. LINTEC offers this product as a solution for frozen foods due to its excellent adhesion under low temperature environments and has been working on promoting it.
Hot-melt labelstock has little environmental impact since it is made without using any organic solvents when coating the adhesive. As no drying equipment is required, it also takes less energy to produce. In this context, LINTEC has developed the new general-purpose permanent hot-melt adhesive to meet the growing need for environmentally friendly labels. The new adhesive helps to ensure that labels, once attached, do not come off easily, and also provides superior adhesion to curved surfaces. Seeing a wide range of potential applications, LINTEC aims to promote its hot-melt adhesive labelstock in the domestic market. The HVT series of labelstock using this adhesive will be launched on February 1.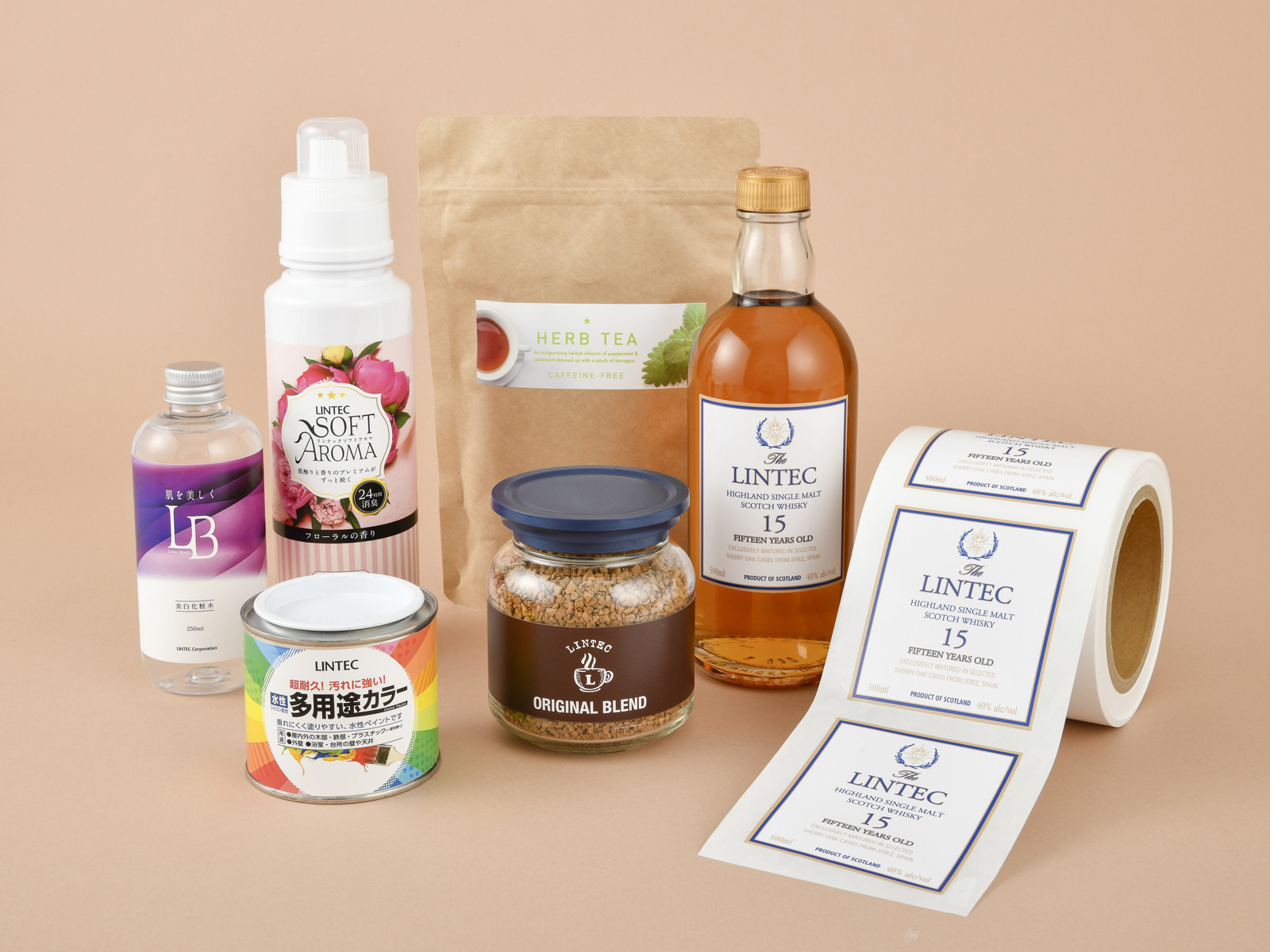 Safe Design Complies with Japan's Food Sanitation Act and Contributes to Reduction of CO2 Emissions
The three new products are Yupo 80 (UV) HVT 6K and KP503 HVT 6K, which use synthetic paper for the facestock, and PL80G HVT 6K COC, which uses water-resistant paper to meet the growing demand for reducing the use of plastic. The adhesive complies with the positive list system of Japan's Food Sanitation Act, which only permits the use of substances that have been evaluated for safety.
Another environmental benefit of the new adhesive is the use of plant-derived raw materials, delivering a biomass rate*1 of 25% without reducing functionality. Meanwhile, LINTEC is also working to reduce the plastic raw materials used by minimizing the amount of adhesive applied while maintaining the same adhesive performance. For example, Yupo 80 (UV) HVT 6K reduces CO2 emissions by approximately 20%*2 at the manufacturing and disposal stages compared to solvent-based labelstock with the same adhesive performance on the same facestock. LINTEC will continue to proactively offer hot-melt labelstock to further meet the growing need for environmentally friendly products.
*1

Biomass rate: The percentage of biomass material contained in a product (percentage of dry weight).

*2

These data use Climate Change IPCC 2013 GWP100a from AIST IDEA Ver. 3.1. Calculated emission values may be updated due to changes in calculation methods or updates to the data used. The results of the trial calculations are based on the Company's rules as of November 2022.
The contents of the News Release are as of the announcement date. Please note that they may differ from the latest information.