August 28, 2020
Producing a luxurious Japanese atmosphere
Releases new creative paper blended with adzuki bean shells
LINTEC will be adding a new model featuring a luxurious Japanese atmosphere to its lineup of creative papers. The blending of adzuki bean shells into the paper gives it a pattern and texture that exudes peacefulness. The new model will be commercially available from September 1.
Creative paper with a luxurious Japanese atmosphere
LINTEC has been taking advantage of its unique papermaking technologies to offer an extensive array of specialty paper products, including color papers for envelopes, creative papers, high-grade printing papers and special function papers.
Featuring a luxurious Japanese atmosphere, the existing lineup of creative papers includes five different models in a matcha green color that vary in paper texture and look. They have been used for envelopes and wrapping papers, among other uses. LINTEC has recently decided to add a new model blended with adzuki bean shells to further expand sales of this series.
Making effective use of adzuki bean shells to create a pattern and texture that exudes peacefulness
The newly launched model is produced by blending adzuki bean shells with lumber pulp, which leads to an effective use of waste. It features the gentle tones of adzuki that cannot be reproduced by printing as well as a pattern and texture that exudes peacefulness. It will be used in a wide variety of applications, including carrier bags, envelopes and various packages.
It is made from lumber pulp from FSC® certified forests and other properly managed forests, and has thus acquired FSC® MIX certification(FSC-C022824). It contributes to the sustainable utilization and conservation of forest resources.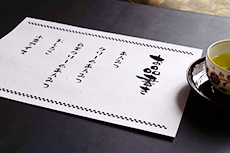 The Forest Stewardship Council® (FSC®) is an international non-profit organization engaging in activities for proper utilization and conservation of forests.
The contents of the News Release are as of the announcement date. Please note that they may differ from the latest information.