August 28, 2020
Adds new embossed feel model to its lineup of long-selling colored construction papers
Surface unevenness produces a unique texture and luxurious feel. Available in five popular colors
LINTEC will be adding a new embossed model to the lineup of colored construction papers with a strength,thickness and texture suited for arts and crafts. The new model will be commercially available from September 1.
The new model characterized by its uneven patterns is provided in five colors
LINTEC has been widely providing colored construction papers since their release in 1964 and has enjoyed long-lasting support for them. To date, we have released a standard model in wide variety of colors (70 colors), a fluorescent model featuring four vivid colors, a dual color model featuring two different colors on two sides in eight variations and a thick model with ten different solid texture variations.
A new model featuring embossed uneven patterns that produce a delicate feel now joins the lineup. It will be available in five of the standard model's most popular colors, snow, cream, light blue, green and black.
The 3D texture extends the range of expression possible as well as the applications for the paper
The new, embossed model enables profound expression while the shades produced by the uneven surface produce impressive textures and a luxurious feel. The 3D texture extends the range of expression that is possible, enabling the new model to be used not only in arts and crafts but in a wide variety of applications, including book covers, end papers and fancy boxes. LINTEC will continue to work hard to develop and propose products that will make more people feel familiar with paper.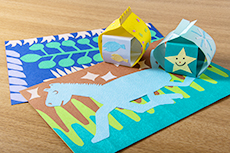 The contents of the News Release are as of the announcement date. Please note that they may differ from the latest information.