June 21, 2019
Launching a new brand on July 1 to further reinforce LINTEC's overseas expansion
Livasta, the Master Labelstock Brand
LINTEC is taking part in Label Forum Japan as a sponsor under the brand
Starting July 1, LINTEC will make a bid to further enhance its brand value and strengthen its sales expansion in domestic and overseas markets under Livasta*1, the new flagship brand for its core labelstock products. LINTEC will also be taking part in Japan's largest dedicated label event Label Forum Japan 2019, to be held at Tokyo Dome City from July 9, as an event sponsor, where it will exhibit various high-value added products under the Livasta brand (LINTEC booth at the exhibition venue: F-1).
1 Livasta: The new brand name that incorporates elements from the words LINTEC, Value, Stick and Advance.
Bolstering LINTEC's overseas expansion under a new master brand
LINTEC proposes a range of high-value added labelstocks that cater to various performance requirements by combining facestocks, adhesives, release papers and release films based on the intended use. Setting its sights on further business expansion in Asian and Western markets moving forward based on this extensive product lineup and unique ability to develop proposals, LINTEC decided to launch Livasta as a master brand to boost brand value and strengthen its sales expansion. The new brand name encapsulates LINTEC's strong resolve to incorporate feedback from customers around the world and create value and future potential in labelstocks.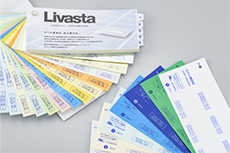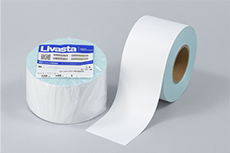 Proposing various labelstocks at the exhibition venue for Label Forum Japan 2019
At the event exhibition venue, LINTEC will mainly be exhibiting the following products on the theme of Environment, Safety and Security.
Biomass adhesive labelstocks
These labelstocks use plant-derived raw materials for the adhesive, with the adhesive layer of the labelstock receiving the Biomass Mark certification administered by the Japan Organics Recycling Association. In addition to the solvent type and emulsion type with biomass levels*2 of 10%, on this occasion we will also be showcasing a new strong adhesive type product that achieves a biomass level of 20% (to go on sales starting July 1).
2 Biomass Level: A measure indicating the content of biomass raw materials contained in a product (dry weight proportion).
International forest certified paper labelstocks
These labelstocks have obtained international certification proving the use of wood pulp obtained from appropriately managed forests and appropriate processing and distribution. These products help to protect forest resources.
Non-transfer type tamper-evident Labelstocks
When peeled off, this type of labelstocks causes the "VOID" text to appear only on the surface of the label without the text being transferred to the applied surface. By using this type to seal various packages, the packages can be retained in good-looking conditions even after opening.
Super-strength adhesive labelstocks
These labelstocks exhibit extremely strong adhesion to surfaces that are traditionally hard to stick to, such as rough surfaces, polypropylene, and polycarbonates. These are suited to indicator labels and warning labels for various products, as well as security labels for product packaging.
The contents of the News Release are as of the announcement date. Please note that they may differ from the latest information.